The Hudson River Ramble is an event that encompasses much more than the activity described here.  I have been fortunate to participate in this three day paddle along the Hudson for several years.
Friday, September 19
th
:
The day dawned cold, but clear and beautiful.  At 6:30 AM I checked my boat, strapped into the Malone J-Rack on my PT Cruiser, climbed behind the wheel and headed for our rendezvous point at the Corning Preserve boat launch in Albany.  This would be my third Hudson River Ramble with Scott Keller, and I was really looking forward to it.  The weather was expected to be great for all three days
(Click here for last year's report)
.  I had really enjoyed the relaxed semi-structured pace of the paddling in the past.  Several of the folks I had paddled with in past years would be there too.  My buddies Bruce Romanchak and Alan Lovgren would be there along with John VanBuren.  John and I were the guys who discovered the body at a water stop near the Port of Albany last year.  I hoped that we would not have another experience like that one this year.  Joining us would be Mo Fridlich and his son Dan, and, of course, Scott Keller. 

Some of the group met Scott at Schodack Island State Park where we would all leave our cars.  They doubled up boats and gear, leaving some cars behind and ferrying boats, gear and people to Corning.  Others, like myself would come to the Corning Preserve, our jumping off point, first, then ferry our cars to Schodack.  Rob Taylor, the Park Superintendent would drive us back to the Preserve and then return the final car to the park.  Sounds complicated, but it worked seamlessly.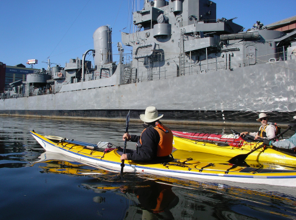 We were on the water and underway sometime after 9 AM.  The weather was clear and bright and we made good time.  Those of us who had been a part of last year's discovery were alert and somewhat uncomfortable as we paddled past the section of river where the body had lain, hidden by overhanging branches.  Sure enough, there were those branches and the mostly submerged pilings that marked the spot.  But this time we passed on the west side of the river, across from that disquieting scene. (See HHR 2007 for more on this)

By noon, we were two-thirds of the way into our trip and at our lunch stop (Henry Hudson Park in Bethlehem, NY).  We enjoyed a relaxed and leisurely lunch before returning to our boats for the last three to four miles to Schodack Park.  After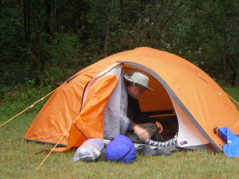 pulling our boats out at the Schodack Island boat launch, we loaded them onto our cars so that they would be ready for the short trip to the put-in at Schodack Creek the next morning.  Next we set up camp near the park's pavilion.  It was early, so we fiddled with gear, napped and hiked before getting ready for dinner.  Alan was cooking tonight; charcoal grilled filet mignon.  It was so tender you could cut it with a spoon – delicious!  After dinner we had a campfire and sat around talking for some time.  Then, one-by-one, we crawled off to our respective tents for a good night's sleep. 

Saturday, September 20
th
:
I remember this day as being warm and relaxing, with lots of wildlife seen and good conversation.  Alan and Scott cooked breakfast and we packed up camp at a somewhat leisurely pace.  The launch point at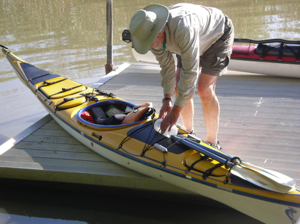 Schodack Creek is about a quarter mile by road to a parking area.  To get to the launch point requires a carry of the boats across a narrow part of the island to the creek on the east side.  This is not always an easy spot to launch from, but many hands make the job easier.  It's important to time your travel on the creek, as portions become a vast mud flat at low tide.  We arrived at the launch site just as the river was reaching high tide, and because we were only traveling one way today, we had plenty of time to paddle and explore the six to eight miles of this wonderful creek.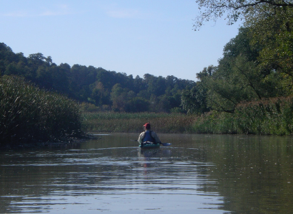 There are three Bald Eagle's nests along this stretch of creek.  In past years we had seen many eagles here, and this year was no different.  At one point after leaving the creek for the main channel of the Hudson, we saw six eagles in one tree – two adults and four immature. 

Our timing was good as we reached Stuyvasant just before one o'clock for our annual stop at the River View Café for lunch.  After lunch we had a short paddle to our camping spot for the night at Gays Point, part of the Hudson River Islands State Park.  After hauling our boats up onto the grass, we set up camp.  Some powerboaters were at the dock talking quietly.  One of the women in the group came up to Alan and offered him a box of crackers, thinking that we only had freeze dried food with us.  Alan declined her offer, saying that we had had filet mignon the previous evening and were having pizza tonight.  She couldn't believe it.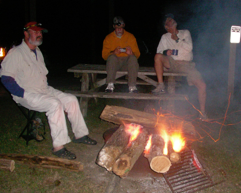 Several of us took a hike around the campsite looking for wood.  We found plenty and carried back enough to make a roaring fire that evening.  It was my turn to cook.  It would be Yackman's Camp Pizza
(click here for the recipe).
  Several people had brought chocolate bars to share for dessert.  These were distributed as we set up our campfire and gathered around for warmth. 

Sunday, September 21st: I woke up early.  It was still pretty dark, with just a hint of dawn in the sky.  I pulled on my warm clothes.  It wasn't really cold, but it was very damp.  The air hung heavy with fog.  No one else was up yet, so I headed for the outhouse to avoid the morning rush.  By the time I returned, Alan and Bruce were up.  Alan asked if I wanted to join them in a morning walk.  I did.  We headed off on a northerly trail that soon forked east and west.  We had been down the western leg yesterday, so we headed east on a long arching trail that brought us behind our campsite and beyond it to several individual and remote campsites along the shore.  The fog made the air seem very still.  We walked and talked quietly, partly because of the dark and fog and partly because there were campers in two of these campsites we didn't want to disturb.  I got some great photos on this hike. 

Soon we were back at camp.  Mo was brewing tea.  Soon I had my Jet Boil's press pot making a strong cup of coffee for me.  As we were thinking about getting breakfast out, someone
(I think it was Alan) suggested that we pack up and paddle the 3.8 miles back to Stuyvesant for brunch.  I was enjoying the camp experience and was a little ambivalent about the idea.  But it was a hit with the others, so pack up and paddle to the Riverview Café for breakfast we did.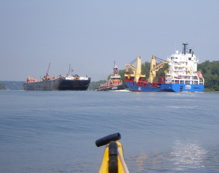 The paddle back to Schodak from Stuyvesant was leisurely and pleasant.  The winds were light and the sun was shining.  The most notable thing that happened was being just out of the channel as two large commercial ships passed each other.  We reached Schodack Island about 3 PM.  Taking our time to pull our boats out and load our cars, we all lingered, commenting on what a pleasant weekend it had been; a gift before the cold weather soon to come. 

See the video of this year's trip by clicking here

Click Here for a link to Mo Fridlich's Guest Blog on this trip