Lake Abanakee is located in the central Adirondack Mountains, just north and east of Indian Lake.  Abanakee, like Indian, is a man made lake that has been in place for more than one hundred years.  Like many man made lakes, it has a beautiful and varied shoreline, which is largely undeveloped.  Lisa and I have paddled this lake a couple of times.  For her, this paddle is just about the right length in both time and miles. 

We've paddled Lake Abanakee when we have taken a weekend to just get away, staying at Binder's Cabins on Route 28, just outside the village of Indian Lake.  Because Abanakee is so close to the cabins, we can sleep in, have a leisurely breakfast and still get hours of paddling in before dinner. 

The lake is bisected on its northern end by Route 28.  The put-in is east of the cabins off of Route 28, down a road on the northwest side of the lake.  The launch area is on the right, adjacent to a culvert where the road crosses over a creek.  It is very small, but there is adequate parking along the road and in a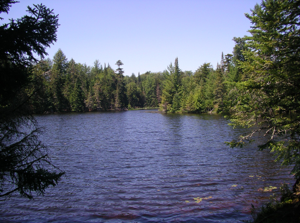 cleared area across from the launch.  A short paddle down the creek has you quickly on the lake.  Be sure to make a mental note of the landmarks here because the creek is easy to miss when returning. 

You can only paddle north for a mile or so before reaching the northern end of the lake.  Paddling south brings you to the Route 28 Bridge, which has large openings that are easy to paddle through.  Once under the bridge, the lake opens up and becomes a picture of what we expect an Adirondack lake to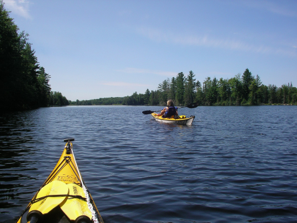 look like. You can make your paddle as long as you want. Lisa and I usually follow the shoreline for most of the way around the lake, paddling about eight miles in the process.  We paddle at a leisurely pace, enjoying the sun, scenery and each other's company. 

A half-mile south of Route 28, all you can hear is the wind in the trees and the calls of birds.  The shoreline is lovely, with rocky edges, cliffs and sandy beaches backed by mixed pine and deciduous forests.  Now and then the shoreline is punctuated by a cabin.  Most of these are "camps" of the kind I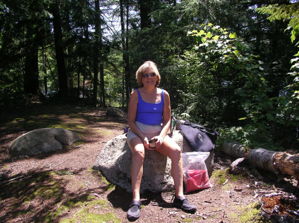 experienced as a boy, not the McMansions we see on so many lakes these days.  There are several unoccupied islands on the lake that have no posted signs in place.  We always stop at one of these for a break and to have lunch. 

It takes about two hours to reach Lake Abanakee from Troy, so if you are doing this from home, get an early start.  We like paddling this lake and will probably do it again.  If you are looking for an easy day paddle, I recommend Lake Abanakee.  Combine it with an overnight or a nice dinner out you will have a pleasant and relaxing getaway.