Trip Data:

•Put In: Dutchman's Landing, Catskill, New York

•Destination: Ramshorn Creek and the Ramshorn-Livingston Sanctuary

•Total Distance: 4 miles +/-

•Difficulty: Easy, in good weather

We had been trying to connect with some friends for a day paddle for weeks.  They wanted to paddle on the Hudson River, but were concerned about tides, current and wind, especially wind.  So I grabbed my trusty Hudson River Water Trail Guide and began to look for an appropriate spot in our area. 

Concern over wind on the Hudson is not misplaced.  Bruce and I were out paddling on a day when the wind was blowing over thirty miles per hour against the current and tide.  It was arguably the most difficult paddling day I have had.  Our friends, Susan and Peter, were paddling recreational kayaks, so caution in planning was appropriate.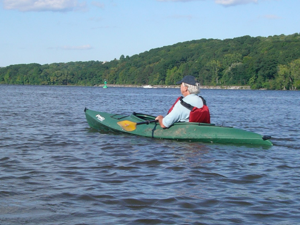 I looked at and discarded several options, then settled on paddling near the village of Catskill.  Catskill is on the west side of the Hudson, some miles south of Albany.  I chose Catskill because there were three options for paddling there.  If the wind was blowing too hard we could explore Catskill Creek.  If conditions were good for venturing out on the river we could circumnavigate Rogers Island across the river and to the north, or paddle south to Ramshorn Marsh, paddling up Ramshorn Creek to the Ramshorn-Livingston Sanctuary, run by the National Audubon Society. 

We met at the boat launch at Dutchman's Landing, near the mouth of Catskill Creek.  This was a great spot for reaching any and all of the identified trips.  The weather was sunny with high clouds.  A slight breeze was blowing, just enough to keep us cool on this August afternoon.  I described the three options to Lisa, Susan and Peter, who all chose Ramshorn Marsh as our destination. 

Dutchman's Landing is north of the marsh.  Heading out, we were careful to stay close together and move quickly because there is a fair amount of powerboat traffic in and out of Catskill Creek.  Quickly crossing the mouth of the creek, then passing some commercial property just beyond, we were soon paddling along the marsh.  While Lisa and Susan talked, Peter and I kept a sharp eye out for the entrance to Ramshorn Creek.  It's easy to miss.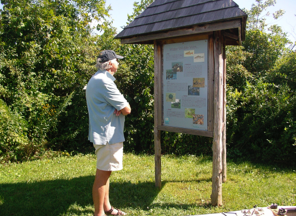 After paddling along the west side of the Hudson for about a mile and a half, we spotted Ramshorn Creek and entered a winding pathway through tall cattails and marsh grass.  It wasn't always clear which way the main course of the creek was heading.  More than once I poked into a dead end, even getting stuck in one of them for a while.  It is only supposed to be a half-mile paddle from the river to the Ramshorn-Livingston Sanctuary, but it seemed much longer and took some time.  After what seemed like too long, the creek made a sweeping turn to the right.  Still, no sign of civilization.  Suddenly, we spotted cut grass and a high dock.  We had arrived at Ramshorn-Livingston Sanctuary!

Peter and I got out on the dock, then steadied Susan and Lisa's boats while they clambered out.  Taking time to stretch, we decided on a snack and some water.  In the distance we could see an observation tower, but were unsure of how to get there.  The mowed path extended in both directions and each looked like it would get us to the tower.  Peter headed off in one direction and we all followed.  It was soon apparent that this path would get us to our goal.  We passed through an open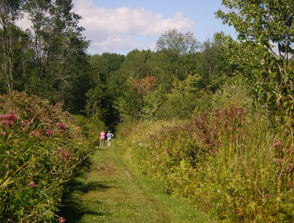 area of tall grass and a few short trees.  The sun was shining and we were soon quite warm.  Ahead was a three-tiered wooden observation tower that looked out over the marsh. 

The tower was solidly constructed, so we climbed to the top where we had a commanding view of the marsh and creek.  We lingered for some time, looking for birds and talking.  Too soon, we ambled back to our boats and headed down Ramshorn Creek to the beautiful Hudson and our take out at Catskill.

After packing up our boats and gear, we did our best to clean up, then headed for a local Vietnamese restaurant for a relaxing dinner and more conversation.  All in all, a pleasant paddle and a wonderful, relaxing day with friends.