May 16, 2009

I've got to break this story into at least two parts.  First is the tale of our paddle down the Colorado from just below the Glen Canyon Dam and Lake Powell to Lee's Ferry.  Lee's Ferry is legendary as the jumping off point for whitewater rafting trips through the Grand Canyon.  The area between Lee's Ferry and the Glen Canyon Dam provides a fifteen-mile stretch of flat water for outfitter supported, but unguided, kayaking trips.  The second, intertwined story is that of our experience with Lake Powell Kayak, our outfitter.

Part One:

The details of the paddle from The Glen Canyon Dam to Lee's Ferry can be seen in my
Video Diary
of the trip.  Just click on Video Diary link
Glen Canyon Dam 

Photo by Paul R. Kucher
elsewhere on this page to access that video.  We paddled 16.71 miles from start to finish.  This would have made an easy day trip, if we could have gotten an early start.  However, the sub-contractor that Kyle Walker of Lake Powell Kayak contracted with couldn't get us up river to the drop off point just below the Glen Canyon Dam until 1:00 PM.  Any way, it didn't really matter, as we wanted to make a two-day trip out of it to have the experience of sleeping outdoors in the Colorado River gorge. 
As the pictures here and in the video link will attest, the scenery is awesome.  Rock walls rising almost straight up from the river for some 700 feet; periodic sandbars, some densely covered with grass and trees, others more open, with six of them being designated campsites by the National Parks Service; bright, intense sunlight in the clear deeply blue sky, reflecting off the walls, off the water and then back again, creating a brightness we seldom experience in the east.  And it was hot, with temperatures in the high nineties, and not a breath of moving air.  We frequently dipped our neck scarves in the ice cold water and placed them carefully around our necks to cool off.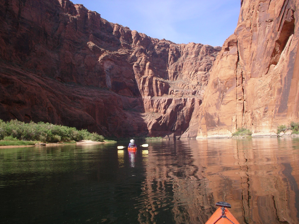 Water from the Glen Canyon Dam is released from the bottom of Lake Powell.  It is a constant 47 degrees year round.  That's killer cold.  The contrast between the air and water temperature is extreme.  I could stand in the water for less than five minutes before my feet would ache intensely and my muscles would refuse to work properly.  It was sobering to realize that a capsize in the middle of the river could initiate a serious life-threatening situation.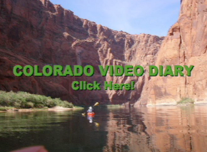 We were told by our outfitter that the current below the dam sometimes ran as high as two miles per hour.  In fact, the current sometimes exceeds six miles per hour when water is being released from the dam.  While there are no rapids on this section of the river, there are places where the river narrows, becomes shallower and the force of the moving water picks up, giving a paddler a substantial push.  At one point, my GPS registered a boat speed over the ground of 11.9 miles per hour!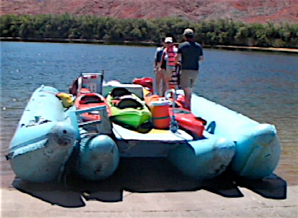 There is no place to launch a kayak at the dam, so our outfitter subcontracted with a company running tours on motorized inflatable boats that depart somewhere near the base of the dam and carry sightseers down the river to Lee's Ferry.  These boats are about thirty feet long and look like Zodiacs on steroids.  At Lee's Ferry, the passengers disembark to catch a chartered bus back to Page.  Then the boats make the run back up river, empty.  It is like free money for them to take us, our boats and gear aboard for the ride up the Colorado, back toward Page and the Glen Canyon Dam. 
From a US Parks Service Map of the Flat Water Colorado

We were deposited on a sand bar just below and out of sight of the mighty Glen Canyon Dam at about 12:45.  I'm glad we couldn't see it from our position on the beach.  I didn't want to think about the billions of gallons of Colorado River water that make up what is now Lake Powell, trapped behind that man-made wall towering far above us, just up-river around the bend.  This was to be an "unguided" trip.  Lake Powell Kayak provided us with boats, PFD's, paddles, dry bags, sleeping bags and pads, a tent and tie-downs for the kayak on the car, but no maps or detailed information about what we'd experience on the river.  There is some of this information on the outfitter's website, but who carries a laptop on a kayaking trip?
We started to load the kayaks when I noticed that a bolt needed to hold the foot peg rail on the left side of Lisa's boat was missing.  The rail hung loose along the inside of the kayak, making it impossible to control the rudder, and worse, providing a potential leak.  I know that sometimes kayakers are called upon to make field repairs, and I had packed my repair kit.  I got out a screwdriver and looked for a suitable nut and bolt.  In looking for a hole for the bolt, I found that the original bolt was still in the plastic hull, but there was no nut.  After a few more minutes of fussing, I found that the rail itself was threaded to accept the bolt.  Soon the repair was made.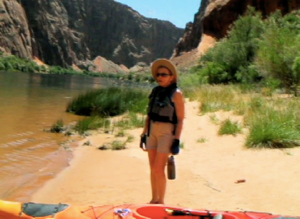 The next problem was what to do with the two huge camp style sleeping bags we had been provided with.  The outfitter had provided us with two mismatched dry bags.  I
Lisa at the start of our trip, just below the Glen Canyon Dam.
forced one sleeping bag into the smaller of the two dry bags and managed to cram it through the front hatch opening of my boat, a well-worn Perception Carolina 14.5.    Then I put the other sleeping bag in the second dry bag.  This one opened along the full length of one side.  I pushed and kicked it between and behind the foot pegs in my boat.  I took both of the bags because Lisa's boat was smaller.  While it was about the same length, it was narrower and had a rudder, both things that would make it easier for her to paddle than the somewhat barge-like Carolina.  And, her boat was the only one like it that the outfitter had.  It was an old Dagger Spectra, a nice boat, but definitely past its prime.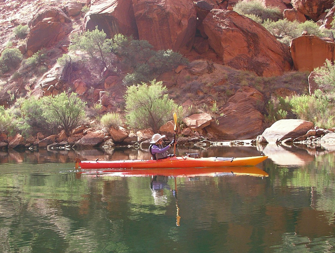 We launched at about 1:15.  I planned to cover about six miles at a slow pace before looking for a campsite.  It had been months since Lisa had paddled a kayak, so taking the trip slowly seemed like a good idea. 
The river and its surroundings almost defy description.  In most places rubble from eroding canyon walls and sand deposited by the Colorado have built up flat areas that back up to vertical canyon walls.  These are narrow or non-existent where the river flows straight and true.  But at each bend, the inside sports a wide sandbar, while the outside of the bend usually has nothing but a vertical wall towering as much as 700 feet above.  These walls are colored various shades of red and are stained with large areas of dark maroon, almost brown deposits that the Rangers call "shellac".  This natural coating on the surface of the rock is caused by the weathering and oxidation of iron deposits in the stone.  Every turn in the river brought new "Oos" and "Aha's", as the scenery unfolded before us.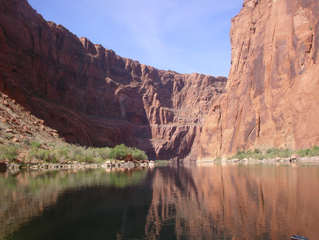 We were making unexpectedly good time.  It seems that our outfitter was a bit off on the speed of the current in the river.  At one point where the river narrowed and became much shallower, we saw riffles where underlying rocks caused the river to rise quickly, breaking the calm surface and creating a pleasant gurgling sound; almost, but not quite whitewater.  Passing through this area my GPS registered just under 12 miles per hour over the ground!  It's possible that these shallow areas of fast moving water over rocks could cause a novice kayaker a problem.  We kept away from them and passed through without incident. 
At our leisurely pace and with stops to stretch and take pictures, we were still at our campsite before 3:30. Nine-Mile Camp was the first large designated campsite we came to.  There were two more camps within two or three miles, but this one was deserted.  We'd have it to ourselves.  And it split the trip up nicely, giving us some nine miles to paddle to Lee's Ferry tomorrow (thus the name "Nine-mile Camp").  There was supposed to be a privy on the site, a nice luxury, but it was invisible from the river. 

We went ashore to explore.  It was hot.  The sun was still high above us, with the heat confined within the canyon walls.  And there wasn't a breath of air moving.  We dipped our kerchiefs into the cold Colorado, wrung them out and draped them around our necks to cool off.

Across the river to the east was a shallow flat area backed by impressive canyon walls rising vertically hundreds of feet.  These walls stretched from as far as I could see upstream, to downstream where they disappeared in a sweeping curve to the west.  From our campsite's beach we could hear the downstream ripple of fast water as the river entered the curve between the canyon walls.  Behind us to the west, the sandbar continued inland about two-hundred yards, ending at a series of gently rounded, deep red-maroon rock formations that built horizontally one on another, marching westward toward the gradually setting afternoon sun, until they formed a canyon wall several hundred feet high.  We hoped that the sun would soon drop behind this wall and give us some relief from the intense afternoon heat.  In the mean time, we needed to select a shady spot to relax and to unload our boats.

There were several groups of short trees fifty yards or so from the river.  I selected one that provided a shadowy spot and dropped the gear I was carrying there.  I set up the tent, not for sleeping, but as a place to store gear.  Our outfitter had advertised that he used only quality equipment from suppliers such as REI and others.  The tent we had was made by Sterns and was definitely not a serious camper's tent.  It had a polypropylene floor, but was otherwise adequate for its intended purpose.  There were no ground stakes provided, but with no wind, that was not a problem.
Lisa and I thought we might sleep under the stars if the warm weather continued, so I spread the tent's rainfly on the ground as a place to sit and as possible sleeping space.  That's when I noticed that the rainfly was full of holes.  These were obviously caused by a previous camper setting up too close to a roaring fire where a rain of sparks and embers turned the fly into what could be a leaky sieve in a storm.  But luckily, that didn't seem like it would be a problem for us either.

Back at the boats, I opened the front hatch of my Carolina and pulled out the dry bag holding one of the two sleeping bags.  There was water in the compartment, but the sleeping bag was in a dry bag.  The dry bag had leaked!  Water had penetrated through the side of the well-worn bag whose waterproof capabilities had been compromised by too much sun and too many trips.  Cursing this poor equipment, I pulled the wet sleeping bag from the not-so-dry bag.  Lisa and I slung it
over a nearby bush to dry, which would be no problem in the warm, dry weather.  The dry bag from between my foot pegs fared a little better but the sleeping bag was
The leaky rear hatch.  There was at least a half gallon of water in the hatch when we arrived at camp.
still slightly wet.  It was soon spread out to dry as well.  I opened the rear hatch to collect the rest of our gear and found several inches of water with all my gear half submerged.  I will sometimes get a half–cup of water in the rear hatch of my own boat if I've been out in rough weather, but never anything like this.  Luckily, I had brought my own dry bags for our food and clothing so these things were dry.  However, I had packed flashlights, repair kits, cooking gear rain gear, camp pillows and more in waterproof bags, but not dry bags.   With so much water, all of these things were soaked.  Cursing again, this time more vigorously, I spread out a space blanket I had brought and began to place the wet gear on it to dry. 
Needing a break to escape from the sun, Lisa and I headed back to our ground cloth in the shade.  Lying back on the cloth, I used a clothes bag as a pillow and stretched out to gaze at the clear blue of the sky.  It's color ranged from light blue near the top of the canyon walls to the east, to a deep, deep blue directly overhead, a blue with such depth that you could imagine it extending far out into space until it became black as night.  I stared at the sky for several long minutes, then casually glanced to my right to see the tent crawling with thousands of red ants!  Apparently I had set the tent on top of a large red anthill.  The tent was free standing and not staked to the ground, so I ran over, brushed ants a way from the door and removed the few things we had stashed inside before zipping it closed.  No ants inside.  It appeared that even though the rainfly was full of holes, the screening in the tent was intact.  I picked the tent up by its hub at the center of the top and shook it vigorously.  Showers of ants rained off, back onto the anthill where they belonged.  I moved the tent about twenty yards to the shade of another clump of trees, examining the ground carefully before setting it down and reloading it with gear. 

I wandered back to the river, stripped off my shirt and dunked it in the ice-cold Colorado.  After wringing it out, I gingerly pulled it over my head and down over my body.  It was cold, really cold, but it was just what I needed.  About this time I began to notice some annoying little bugs a bit larger than a fruit fly, circling my head.  They mostly stayed above my hat's brim, but still managed to occasionally bump into my face, fly up my nose and into my ears and get behind my glasses and into my eyes.  They didn't seem to bite (a blessing) but they were annoying. 

As the sun began to drop behind the western rim of the canyon, I decided to explore the rocky mounds behind camp.  Crossing over the top of the first mound, I noticed a building that could only be the privy promised on this site.  It was a
majestic piece of modern hi-tec plastic and metal in earth tones of brown to blend into the natural landscape.  I decide to explore.  Opening the door, I found a roomy (for a privy), easy to clean plastic space, hot but odorless.  A soft whirring sound revealed a solar powered fan that circulated air and removed odors from the waste chamber.  I thought that this huge piece of plastic architecture seemed out of place in the Colorado wilderness.  Yet its low maintenance and the elimination of the need for many camper produced "cat holes" with their attendant problems seemed to justify its presence here. 
I climbed atop a second mound, then a third and turned to look at our camp and the river below.  From this vantage point I could see the Colorado sweep majestically from the northeast to the southwest, passing below the high eastern canyon wall across from camp. The wall was bright red, and maroon, with shades of gray and tan in the yellow light of the late afternoon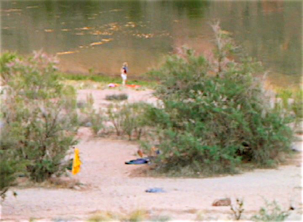 sun that was just dropping behind the canyon wall behind me.   From here the river looked flat, calm and still, far different from the experience when close to it.  In camp near the river's edge, I could see Lisa picking up dry gear.  She looked tiny against the backdrop of the river and canyon walls. 
Responding to the grumbling in my belly and swatting at the flies buzzing about my head, I descended quickly into camp to get dinner started.  I had intended to cook near the river.  I use the term "cook" loosely.  I was only able to bring my Jetboil stove on this trip.  It does one thing well – boil water.  With boiling water I can make coffee, oatmeal for breakfast and any number of "gourmet" freeze dried dinners. Tonight's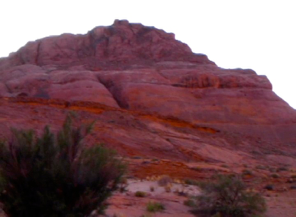 offering was to be freeze dried chicken teriyaki with rice.  The stove was already set up on a grate over a fire ring close to the river.  I got
out the cooking supplies and camp dishes, all the while swatting at a rapidly increasing number of those annoying little black bugs.  Soon I was doing more swatting and cursing than meal preparation.  Bugs were in my eyes, up my nose, in my ears and even in my mouth if I dared to speak.  I could hear the faint thwack, thwack, thwack as they bounced off my wide brimmed hat.  About then, Lisa called out, saying I should bring dinner up on the rocks above camp, apparently above the "bug line".  I grabbed the stove, food and eating gear and headed for the hills.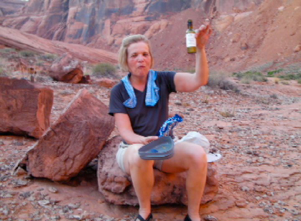 Joining Lisa on the third tier above camp, I found a place for the stove and began dinner preparations in earnest.  There were many fewer bugs here.  Lisa had found a comfortable rock to relax on.  She had brought a small bottle of wine which, lacking a suitable cup, she drank straight from the bottle!  With dinner finally ready, I found a rock of my own, sat down and ate. As we sat eating quietly, taking in the splendor that surrounded us, I couldn't help but reflect on how lucky I was to have a partner who was loving this experience, who thought this place was incredibly beautiful, and who, despite bad equipment, wet gear and bugs did not complain or want to be anywhere else. 
We lingered on the rocks for quite some time, then descended to the river where we rinsed and washed our dishes.  Unbelievably, the bugs were even thicker than before!  Above the" thwap" of bugs hitting my hat and the sound of the river, I could hear another sound - a soft whirring.  Where was it coming from?  Standing still and looking up I could see a pale blue sky filled with billions of swarming bugs.  The sound was the combined beating of their wings!  We made a hasty retreat from the river and quickly decided there would be no sleeping under the stars tonight.  We shoved our sleeping gear into the flyless tent and quickly crawled in after it, zipping everything up tight.  From inside our little cocoon, we could see bugs crawling on the tent's screening – on the outside!   That tent may not have been a prime piece of equipment, but it saved us that night. 

It was only eight o'clock; too early for sleep.  I thought I would make some notes on the trip so far, while Lisa read from a
We retreated to our tent to avoid the bugs.  Then, no lights!
book she had managed to keep dry (mine had gotten wet).  I grabbed my headlamp and fired it up.  Nothing.  I tried again.  Again, nothing.  I changed the batteries.  Nothing once more.  Setting it aside I grabbed a second headlamp and fired it up with the same result.  Nothing.  I was out of headlamps, but had one more flashlight in the kit and another smaller light in my tool bag, both of them waterproof.  These worked.  With a little improvisation, we soon had enough light to read and write by for a while.  Sometimes I'm teased about all the stuff I carry on a trip.  On this trip my tool kit and redundancy in lighting gear saved the day!  (As a side note, both headlamps were destroyed by their soaking in the leaky rear compartment of my boat.  They have been replaced with waterproof headlamps.)
After an hour or so, the lights went out.  First Lisa turned off her light and snuggled down on top of her sleeping pad and bag.  Soon after, I joined her.  The night was warm.  I had intended to lay awake, watching the stars as they blinked into view in the clear desert sky above our tent.  But, sleep soon ended that idea.  I didn't stir again till first light, when the early morning's cool temperatures sent me inside my bag for the first time.

May 17, 2009

I don't know when we got up.  It was long after first light, but some time before the sun had peaked over the canyon rim across the river.  The morning was cool and pleasant.  The early morning sun on the canyon face behind us made it glow in various shades of red.  The bugs that had plagued us last night were, thankfully, gone.  I lit the Jetboil to get water going for coffee.  The Jetboil cup has a nifty French press accessory that quickly makes two, fresh eight ounce cups.  With coffee in hand, I boiled more water for oatmeal.  This was not the packaged instant stuff, but real rolled oats.  I just add boiling water and stir.  It is less mushy than the packaged stuff and tastes better.  A selection of brown sugar, raisins, chopped walnuts and powdered milk to be mixed in as desired completed the meal.  It made a tasty and hearty breakfast. 

After breakfast, we set about breaking camp and repacking the boats.  Because of yesterday's experience with so much of my equipment soaked, damaged or destroyed, I decided to stuff the outfitter's sleeping bags in the front hatches of each boat, unbagged.  If they got wet, they got wet.  I took the outfitter's one reasonably good dry bag and put in any of my own gear that I did not want to get wet.  Somehow I managed to get this unwieldy package into my leaky rear hatch.  With everything packed we took one more bathroom break, looked around one last time at our beautiful surroundings, got into our boats and were off.  It was about 9:30.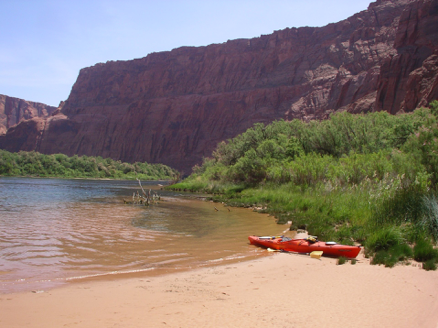 Morning on any river is special, but this one was spectacular.  The freshness of the morning, the scale of the canyon, the colors of the rocks, trees and river, the morning call of birds that seemed familiar but couldn't be identified, all contributed to a sense that we were passing trough some exotic, otherworldly, timeless land.  We paddled slowly taking in these surroundings, holding on to them in the hope that we wouldn't soon forget this place.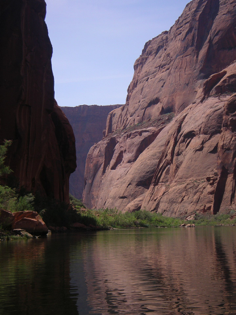 After about two hours of paddling we pulled in at a beach where we were told there were ancient petroglyphs.  There were also hi-tec privies here as well and our morning coffee had hit with a sudden urgency.  So it was first find the privies, then find the petroglyphs.  The petroglyphs were interesting.  They were left be some ancient people on a side canyon wall.  It was very hot in the side canyon, so we headed back to the shady shelter of the beach. 
Just as we arrived back at the beach, eleven (yes eleven) giant inflatables, each carrying twenty passengers began pulling into our beach.  It was "our" beach because we were the only ones there until the two hundred or so occupants of these boats began disembarking for their trek to the privies and petroglyphs.  So much for solitude and wilderness!  Lisa and I found a shady corner by ourselves and used the time to have a snack and hydrate.  Soon the boats began to leave, one and two at a time.  One of the last to go carried twenty teen-age boys.  This roughly equals the energy level of a barrel of monkeys.  To keep them interested and prevent mischief, the guide told them that no one could get back on the boat until he had been completely submerged, head and all, in the forty-seven degree Colorado.  It was pretty funny watching the antics as each boy tried to force himself into the water. 

With the last boat gone and solitude established once more, we reentered our boats and continued on down the Colorado toward Lee's Ferry, our end point.  About an hour later, another distant roar announced the return of the inflatables, this time empty and racing each other.  They came upriver; sometimes two and three abreast as they roared back toward the city of Page and the Glen Canyon Dam to pick-up the afternoon's gaggle of tourists.  We pulled behind a prominent sandbar and watched until the last of them had passed before again continuing our leisurely paddle toward Lee's Ferry. 
As we rounded a final bend, Lee's Ferry came into view, much too soon as far as we were concerned.  We beached the boats, got our hot car from the parking lot and loaded the boats and gear.  As we headed back toward Page, we were quiet, reflecting on our adventure.  Looking like an oasis on the outskirts of Page, a McDonald's drew us in for a sandwich and a welcome iced coffee before we returned the boats and gear to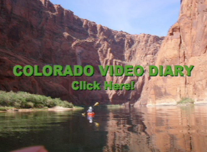 the fenced lot where we had picked them up.  Our outfitter's other equipment sat there just as we had found it - jumbled, worn, dirty and faded.  We left the boats, damp sleeping bags, pads, not-so-dry bags, PFD's and paddles there with the rest of the stuff, under a blistering sun, in a dusty boat yard next to a driveway. 
But the outfitter is part two of this story.