September 11-12-13-14, 2008

Tested On Lake Champlain: The day dawned gray and rainy.  Conditions at launch time were breezy but well within our capabilities.  In our first hour on the lake, the winds were a manageable eighteen miles per hour from the southwest, the direction of our trip.  However, as we made our way south the wind began to build until it was a steady thirty-five miles per hour, with gusts to forty-five.  The waves grew from eighteen inches to four feet, coming in a short, steep and often confused seaway.  We had twelve miles to paddle to reach our destination, Alburg State Park in Vermont.  We were averaging just over two miles per hour, with little chance to rest or take a break.  It would take us five hours to reach our destination.

After more than three hours of paddling, my muscles were so fatigued that my forward speed was being heavily affected.  I felt like I was sitting on the face of a steep sand dune, trying to paddle my way up hill.   Each stroke was planted into the on-coming wave as I tried to power myself up and over.  Then down into the trough I'd go, ready to plant the blade again and again in an endless uphill battle.  An unusually strong gust of wind would stop me dead and the waves would begin to drive me back, loosing precious ground.  Dig in!  Fight to maintain forward momentum!  Every muscle was crying for rest!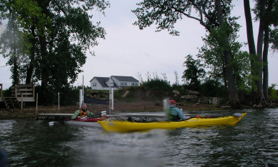 But how did I come to be on Lake Champlain in September in the middle of this horrendous blow? Let me explain.  My friend Scott Keller is the Trails and Special Projects Director of the Hudson River Valley
We took breaks on two occasions by paddling up to docks that were somewhat out of the wind and holding on.  Conditions were such that we did not want to get out of our boats.  I took few photos on this day.  My hands were too busy paddling!
Greenway.  Among his tasks is organizing the annual Great Hudson River Paddle.  Next year (2009) is the four hundredth anniversary of the exploration of the Hudson River by Henry Hudson and the discovery of Lake Champlain by Samuel de Champlain.  As one of the events in the celebration of this anniversary, the great Hudson River Paddle
(Renamed
Great Champlain-Hudson Sojourn
, 325 miles, 28 days, June 22 to July 19)
will start at Rouses Point near the Canadian Boarder on Lake Champlain and end in Manhattan some twenty-seven days later.  The rout will follow the traditional water trail down the length of Lake Champlain to a portage over to lake George, down Lake George to the Hudson River, then down the Hudson to Manhattan. 

Being the thorough planner that he is, Scott wanted to paddle every mile of the trip before hand in order to look for any potential problems and opportunities before leading a group of paddlers on the lake.  Around Labor Day, Scott put out an email to some of the experienced paddlers that he knew, looking for folks to volunteer to help him explore various legs of the trip.  I had the time, so I volunteered along with Alan Lovgren.  Our task was to paddle the first three legs of the trip: Rouses Point in New York to Alburg State Park in Vermont, Alburg to Grand Island State Park, also in Vermont, then Grand Island to Burlington, Vermont.  The first leg was about twelve miles, while the other two were about 18 miles each. 

Thursday, September 11th: We agreed to meet at seven o'clock in the rest area just beyond exit 9 on Interstate 87 N.  Alan and I traveled in his big SUV.  Scott was traveling alone in his SUV.  Both vehicles could carry three boats, the three of us and all our gear.  We would convoy to Cumberland Head in New York, where we would take the ferry to Grand Island in Vermont.  Scott had reserved a campsite for us at the Grand Island State Park.  We would use this location as our base camp, placing one vehicle at each end of the route to be paddled that day. 

Arriving at our campsite in mid-afternoon, we quickly set up camp.  It had been a long time since I had done any "car camping", so I was surprised when Scott pulled out a big box containing a screen tent.  What a luxury.  A place to escape both the weather and the bugs!  After camp was set, Alan got some firewood and we loaded all the boats and gear onto Alan's vehicle.  Then we got into Scott's SUV and headed out for dinner. 

We had decided we would go out on the first night, rather than set up our kitchen and cook.  We headed for the recommended restaurant, the Blue Paddle Bistro, but it was closed.  So we drove till we spotted a pizza and pasta place with a crowd of cars around it.  Alan loves pizza, so this was a great place for him.  We were waited on by a very cute young woman, who charmed all of us. (It's not that hard for a sweet young woman to charm a bunch of old guys – at least Alan and I qualify as "old guys".  Scott's still much younger.)  Back at camp, we started our fire and sat talking into the evening before turning in for what we expected to be a cool night. 

Friday, September 12th: It was a cool night, but the overcast kept it from being cold.  Sometime after midnight the wind started to pick up and it began to rain.  By morning the wind was strong and steady, but the rain had stopped.  It was foggy and overcast.  Not at all a pleasant way to start the day. 

Once more I was surprised by the relative comforts of car camping, when Alan and Scott pulled bacon and eggs from coolers in their cars and proceeded to cook breakfast for all of us.  After a hardy breakfast and some good coffee, we climbed into our vehicles for the ride to Alburg State Park, our end point.  The park was officially closed, but Scott had gotten the gate key so that we could let ourselves in and out.  We left Scott's car at Alburg and headed back to Rouses Point with our boats and gear.  At the launch at Rouses Point, wind conditions were strong but reasonable.  They were not predicted to go any higher through out the day, so we decided to go for it. 

Conditions didn't stay even however.  The wind and waves built through out the day giving me what was arguably the most difficult day of paddling I've ever experienced.  The biggest problem was that there was no place to rest.  So much ground was lost by resting, that we just keep pushing on. 

The waves were at times, intimidating.  They built through out the day till they were running three to four feet.  And the seas were somewhat confused.  We were often paddling along vertical rock cliffs where we would get a substantial rebound from waves breaking there.  Even when we paddled some distance away, we could still feel the effect.  Our direction took us almost directly into the waves.  When we tried to run parallel to them, we found the breaking and rolling too intimidating.  We turned our boats to take the waves on the front right quarter, snaking our way between and over like a Sidewinder over sand.  The conditions demanded constant attention.  One distracted moment could mean a swim in some very difficult conditions.  Alan for one, was sure he was going to be the subject of an assisted rescue!   No one went over however. 

Eventually we reached the point of land beyond which was Alburg State Park.  We had paddled a bit more than twelve miles, taking just over five hours.  Even in these conditions, our moving average speed was 2.4 miles per hour.  As we rounded the point we saw waves breaking directly on a shallow sandy beach, our end point.  I had done surf landings twice before.  The first time I dumped over before I could blink.  The second time I was skewed sideways, but managed to brace into the wave and ride it into the beach.  This time, I watched the waves carefully, then paddled hard for the beach when I saw an opening.  I made it without an extra drop of water in the cockpit!  On shore, there was a lot of rehashing of the days events and high spirits that we had done so well in these trying conditions.  We were feeling very good despite our fatigue.  We packed up as it began to rain.  Then back to Rouses Point for Alan's car.

VIDEO: Tested On Lake Champlain.  Click any place on the photo above to see a video of the winds we faced on Lake Champlain that day.  (Water on the camera lense distorted the image.)
Alan had asked to cook a special meal for us that night.  From his cooler he produced Salmon filets and filet mignon.  Unbelievable!  He grilled these over charcoal and served them with Fettuccini Alfredo.  As if this wasn't enough, we ended the meal with cheesecake.  No one went hungry that night.  I like it when Alan cooks!  It rained lightly from time to time, but we had a campfire anyway.  I was pretty tired, so I turned in a bit before the others.  What would tonight and tomorrow bring?

Saturday, September 13th: The night was warmer.  The rain ended and the wind diminished till it was calm near morning.  I crawled out of my tent into heavy fog, with everything wet; wet from rain and wet from dew.  I stumbled to the nearby bathroom and returned to fish my coffee fixings out of Scott's car.  Setting a chair outside the screen room, I hunkered down to sip my coffee and let it begin to do its work.  I blankly thought about how well my REI quarter dome tent behaved in bad weather.  It stood up to the wind and rain, keeping me warm and dry when many other folks were not so lucky.  It seemed like a warm and friendly presence in the cool gray of the early morning fog.

Scott and Alan got the dueling camp stoves going again and soon we had a veritable feast of bacon and eggs.  It was looking like I wouldn't need to cook on this trip at all!  Permanent KP duty was fine with me. 

Scott decided to do the Grand Island to Burlington run today.  It was the longest of the three legs at eighteen miles.  The wind was predicted to be light.  It seemed prudent to get this section out of the way.  Soon the Boats were on Scott's car and both vehicles headed for Burlington.  We dropped Alan's vehicle near the Coast Guard Station at the harbor in Burlington, piled into Scott's car and headed back to the launch site at Grand Island. 

Today was so different from the day before.  This morning, not a breath of air was moving.  Everything was still.  The sky was gray and heavily overcast.  Mist hung in the air, barely moving.  A Loon gave its haunting, almost alien call out on the lake.  It echoed back in the stillness. 

We got to the task of unloading the boats from the car and loading our gear into them for the day's trip.  Some folks with water dogs wandered into the launch area and released the animals to play in the water.  Soon we were ready to go. 
Scott and the "Herniator" on the clam day that followed our day of testing on Lake Champlain.
The paddling this day was so easy compared to yesterday.  Strangely, not a muscle was aching anywhere.  Hard to believe that an old goat could feel as bad as I felt yesterday and not feel a thing today!

Grand Island State Park lies on the east side of Grand Island within an area known as the Inland Sea.  The Inland Sea is a lake-sized area enclosed by many islands on the west and by the Vermont shore on the east.  We launched into this body of water and would paddle south until we approached an abandoned railroad causeway that connects Grand Island to the Vermont mainland.  The causeway blocks watercraft from easily entering and exiting the Inland Sea.  Our task was to find one of two openings through this obstruction.  The northern opening allows large boats to enter and exit.  We were looking for the harder to find southern opening,
a narrow passage under an overpass and into the main body of the lake.  This passage would allow paddlers to stay protected behind the
Alan searching for the underpass that would take us through this abandoned causeway to the main body of Lake Champlain.
causeway for a longer time before entering the main body of the lake.  After some searching, we found our opening.  As it was about lunchtime, we pulled into an area near Mills Point on the Inland Sea side to rest and refresh.  We had covered over ten miles in a little less than three hours, and had found the opening we needed to complete our trip. 

As we stretched on the beach and began assembling our various lunches, two kayaks appeared and zeroed in on our beach.  Soon a man and woman landed with the same intent-lunch.  The guy was pretty ordinary, but the woman was extraordinary.  She was wearing an athlete's bikini.  Not an ounce of body fat showed.  Her arms were strong and muscled, as were her legs.  But most impressive of all were her ripped abs.  I had a desire to poke a finger into those stomach muscles just to see if they could really be as hard as they looked.  As it turned out, she was indeed an athlete.  This paddle was her warm-up for a long bike race she would participate in later that day.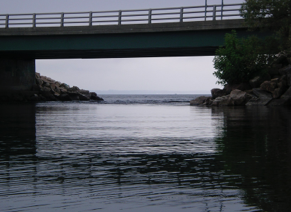 We were soon done with lunch.  We shot through the underpass into the main body of Lake Champlain and headed for Burlington.  It was a lovely paddle of another eight miles or so.  The day had brightened significantly.  A slight breeze had sprung up, just enough to be refreshing and keep us cool.  Aside from dodging ferries, the remainder of the trip was uneventful. 

At Burlington, our boats were soon loaded and we headed back to Grand Island for another wonderful dinner cooked by Alan.  While Alan cooked, I went for firewood.  After dinner, we built another campfire and again talked into the still evening, listening to the late
Approaching Burlington from the northwest.
summer sounds of crickets slowly scratching out their last calls of the season, and loons, foreign and far away, calling to each other out on the lake. 

Sunday, September 14th:  I awoke late at night to the sound of rain beating against my tent and the wind driving it.  I listened, not wanting to think about what these conditions might mean for tomorrow's paddle.  Worse, I didn't want to have to pack my gear and drop my tent in a driving rain.  I rolled over, pulled the sleeping bag up around my ears and fell asleep again. 

Things were no better when I finally woke up.  I listened to the rain and wind for a while.  Lying there, I mentally reviewed the steps I would take to pack my gear with the least exposure to the elements.  Pulling on my clothes, I began to systematically pack everything I had inside my tent, placing each item in an orderly row at the entrance door.  Pulling on rain gear, I ducked outside just as the rain let up.  Dashing to the car, I grabbed a duffel bag and threw it into the tent.  Alan and Scott were stirring also.  The rain returned, strong as ever.  I jumped into my tent, shedding shoes and raingear in the vestibule.  Soon all of my inside gear was packed in the duffel and ready for the car.  At the next lull in the rain, I carried the duffel to the car and returned to drop and pack my tent. 

Scott had been listening to the weather radio.  The forecast was for rain, with wind worse than we had had on Friday.  As today's paddle was some seventeen miles, directly into the wind, we agreed that it would be foolish to go out again today.  There was talk of making breakfast – it would be oatmeal today.  Then Scott suggested that we packed up everything and go out to breakfast.  That put a brighter face on things!  We packed everything, cleaned up as best we could and headed out to find food.  This time the Blue Paddle Bistro was open and serving brunch.  We had a great meal.  Our trip back to Cumberland Head was instructive.  The ferry was tossed around so that the big RV's on board were rocking back and forth ominously.  We were glad that we weren't out in those conditions, paddling. 

*
Footnote:
Based on our experience, Scott is adding one more stop and one more day to the Champlain leg of the trip, thus shortening each day's travel to about twelve miles to allow for severe weather conditions.