1000 Islands Trip

August 10-15, 2008

Sunday, August 10th: Four of us met at the Misty Isles Lodge on the afternoon of Sunday, August 10th.  Misty Isles is a few miles west of the 1,000 Islands Bridge that carries Interstate 81 over the St. Lawrence River, into Canada.  Traveling together were Alan Lovgren of Pennsylvania and Bruce Aptowitz from New Jersey, and Bruce Romanchak and I, both from the Albany, New York area.  We were to meet with Stevie McAllister and John Wright, Members of the Sebago Canoe Club of Brooklyn, New York, later in the week (John is the club's Commodore).  Stevie and John were already on the water, having arrived a day ahead of us.  With the exception of John, all of us were acquainted through previous trips on the Great Hudson River Paddle.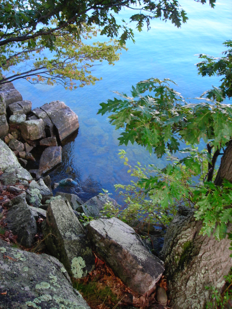 Bruce arrived at my house where we loaded my boat and gear onto his car for the four to five hour drive to Misty Isles.  We arrived sometime after 3:00PM to find that Alan and Bruce A. had set up camp and were already out on the river.  We registered and set up our tents.  Just as we finished, Alan and Bruce A. appeared.  After a brief conversation, we unloaded our boats and joined them on the water.  We paddled west past Hog and Perch Islands, eventually working our way out to Sugar Island, the ACA owned
facility.  We explored the island first by circumnavigating it, and then by talking with a group of paddlers from the Chesapeake Bay who were camped on the island.  Our plan was to paddle back to Sugar Island tomorrow and camp there overnight. 

After a pleasant paddle back to Misty Isles, we were greeted by Adele, Stevie's wife, and several of her friends, who were staying at Misty Isle cabins.  Adele reported that Stevie and John were paddling east from Kingston, Ontario.  They were camping at the halfway point on a national park island and would Join us on Sugar Island the next day. 

With all the logistics taken care of, we began to prepare dinner.  Bruce A. volunteered to go first (we had parsed out cooking duties) as his food was most perishable.  The meal was to be peppers, onions and sausage.  It soon became clear that there was more food than any of us would eat, so we invited Adele and friends to join us.  We had a pleasant dinner, and after Adele and friends had departed and dishes were washed, we sat and talked for a while before turning in at about 10 PM.

Monday, August 11th:  I was up around 6:30 AM.  I did some stretches and exercises in my tent before rolling out.  Shortly there after, Adele showed up with a pot of coffee and some fresh zucchini bread.  Adele makes great coffee.  She was the official coffee maker on the 2007 GHRP, where she was a volunteer on the land crew.  It was great to have a good cup (or two) of coffee as a send off to our adventure.

By 9 AM we had our boats loaded and were ready to head out to Sugar.  Yesterday's paddle to the island had seemed so straightforward that we didn't pay too much attention to our direction this morning.  Soon we were "lost", somewhere west of our destination.  Eventually, using compass and map, we picked Sugar Island out of the confusing background of islands and shore.  At about this time two boats appeared with the paddlers waving wildly.  It was Stevie and John who joined up for the rest of the trip to Sugar Island. 

Pulling up to the beach where we had talked to the Chesapeake paddlers, we saw that all their boats were gone.  Ashore, we explored the area looking for camping spots, but not finding any.  We decided to explore from the water and soon found sites, mostly occupied.  Eventually, we found a shallow beach with several sites perched high above on rocks and cliffs.  Two of these sites were on wooden platforms.  We took these sites plus another ground level spot with a beautiful view. 

After everything was set-up, several of us went paddling in the near-by islands.  The 1,000 Islands and the St. Lawrence River are incredibly beautiful.  There are literally a thousand islands spread over seventy miles or so of the St. Lawrence.  The scenery is typical of what you find in the great northeast.  Somewhat stunted mixed forests of conifers and deciduous trees growing on rugged rock formations left over from the last ice age.  While not a wilderness area, the islands have an incredibly wild feel to them, even with the occasional camp apparent on the islands and commercial traffic in the deepest parts of the river.  We saw many birds, including Ospray, Kingfisher and Heron, and we spotted two different mink, one swimming in the water near our boats and one on shore. 

It was Alan's turn to cook and he made a great meal of spaghetti with clam sauce.  Both he and Bruce A were new to self-contained expedition paddling and camping.  Neither of the meals they cooked would work several days into a trip.  Bruce's meal was dependent on ice
ACA's Sugar Island campsite. 

That's Alan and Bruce A.
to keep it fresh, while Alan's meal was contained in an enormous number of bottles and cans that took up a lot of boat room on the trip in and out.  Both were excellent meals however.  Before Alan could finish cooking, it began to rain.  I had brought two tarps.  We rigged one to cover the cooking and eating area and had a wet but cozy meal before the bugs drove us into our tents at about 9 PM.  The rain had stopped by that time.  It was a warm, pleasant night, so I slept with the tent's vestibules open. 

Tuesday, August 12th:  It was a leisurely morning.  I was up at 6 AM, made coffee and oatmeal for breakfast and then packed up my tent and gear.  No one seemed to be in a rush.  Stevie, our nominal leader, slept late.  He and john took their time with breakfast and packing their gear, so we didn't get on the water till about 10 AM. 

Our destination was the Canadian National Park on Grenadier Island.  The distance was only fifteen miles or so, but it still took us five hours.  There is so much to see in these islands.  Our route wound around and between a dozen or more beautiful islands, some big, but most small, and everyone a gem.  Our pace was slowed by our desire to hug the shorelines of these islands and by our rubber necking to be sure we didn't miss anything.  Also, we needed to stop every hour or so to let John stretch is back and legs, as he was in the midst of a sciatic nerve attack.  Usually I am the oldest paddler on our trips, but this time John had me beat at 72 years. 

As we approached our destination, I somehow found myself in the lead.  I had entered the GPS coordinates in my unit, but still managed to paddle right past the park entrance. We doubled back, but missed it again.  After a third try, we paddled up to some fishermen for some help.  They pointed us in the right direction and gave us some landmarks to look for.
Canada's St. Lawrence Islands National Park at Grenadier Island.
  This time we found it, but the entrance was very hard to see, hidden behind small islands and a hook of land. 

As we looked for a place to land, we were greeted by the Park Steward, a very friendly and helpful guy who's name I never got.  He and his wife spent their summer living aboard their boat at the Park's dock, acting as the welcoming committee for visitors to the facility.  The Steward guided us to a pullout spot and gave us the low-down on park procedures.  While there were lots of large boats at the park's docks, we had our pick of campsites on a large and well-groomed field, surrounded by trees. 

I tucked my tent into the shade at the edge of the field, but soon needed to move it into an area where the breeze could blow the bugs away.  Things were still a bit damp from last night's rain, so Bruce R. strung a clothesline.  Soon the place looked like a gypsy camp, with colorful rainflys, PFD's, sleeping bags and various items of clothing rippling lazily in the late afternoon breeze.

It was my night to cook.  I had planned a specialty, tortellini, using a recipe I got from Scott Locorini of Adirondack Exposure (see below).  It's not hard to make, it's hardy and tasty, and it seems very elegant several days into a trip. 

After dinner I grabbed my towel and some CampSuds and headed for a corner of the now nearly deserted beach.  I had a nice swim, then lathered up and rinsed.  It felt good to shed some of the sweat and grime that had accumulated over the past several days.  At some point, Bruce A.,
YackMan waiting for the tortellini to cook.
who had been talking to a Canadian family, joined me in the water for a similar clean-up.  Back at the tent, I changed into long pants, a long sleeved shirt and socks to ward off the biting insects and to avoid using bug repellant if at all possible.  Then it was back to a bench at the riverside where I watched the sun set while making a call home to check in with Lisa.
Scott's Tortellini

This meal packs easily, looks elegant and taste's great.

Ingredients:

1.Tortellini of your choice

•I use tri-color tortellini  One bag is a generous serving for two.

2.A fresh onion

•I like Sweet Vidalia

     3.   Fresh garlic

     4.   Jar of roasted red peppers

5.Pre cooked bacon

•This bacon does not require refrigeration until it is opened.

6.Balsamic Vinaigrette dressing

Directions:

1.Chop onion, garlic, peppers and bacon.  Sauté until onions are translucent.  Set aside in a covered dish.

2.Bring water to a boil.  Cook tortellini for about 11 minutes or until cooked to your taste.  Drain.


3.Put sautéed meat and vegetables into pan with tortellini and mix.  Add dressing to taste


4.Serve warm.

Alan had bought some wood from the Steward.  Before I got back to our campsite he had the beginnings of a roaring blaze going.  Our evening ended with talk around the campfire and reflections on a wonderful day. 

Wednesday, August 13th: The night was cold, colder than any so far, with an exceptionally heavy dew.  Everything was wet, just as wet as if it had rained.  I was awake early with a pounding sinus headache.  After dressing and taking something for the sinus problem, I made coffee and had a quick breakfast.  I knocked my tent down and packed my gear to be ready to leave when the others were ready. 

By 8:00 or so, Alan suggested a walk on one of the park trails.  It seemed like a good idea, so off we went.  The morning was bright and showed signs of being another great day.  The park trail explained the history of the island with signs and artifacts.  The most interesting artifact was an old cemetery with the remains of the early residents of Grenadier Island.  After exploring for a while, we headed beach to camp. 

As we arrived, we could see that weather conditions had changed significantly.  There were dark clouds off to the west, with the sound of thunder in the background.  Within minutes the rain began.  All but one tent and its contents were down and packed, with their contents scattered on the ground around them.  In a flurry of activity, we all grabbed our stuff and tossed it into a near-by pavilion, disturbing a family that had taken shelter there.  There was a mom and dad, grandparents and three little boys.  They were in the midst of cooking breakfast and had taken over the whole place.  We made ourselves as small and inconspicuous as possible while they cooked pancakes and tried to get the boys to sit down and eat.  The rain became heavy and the thunder, now with lightening, increased.  The middle boy, about 3 years old, began to wail, letting everyone know that he was not happy and wanted to go home right now!

After a half-hour or so the rain let up.  The family cleaned up their gear and headed back to their boat and a trip home with child number two still crying and carrying on.  At this point the weather radios came out as we considered our options.  The forecast was for widely scattered thundershowers throughout the day, ending sometime during the night.  Given this forecast we decided against another fifteen-mile paddle, especially since our route would take us away from these small islands and the storm shelter they would provide. 

We elected to stay on Grenadier Island another night.  We reset camp between rain showers.  I set up my Kelty tarp for the first time and found it quite satisfactory.  We took lunch in the pavilion during another downpour.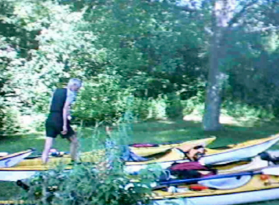 By afternoon it had cleared enough to consider paddling.  We decided to paddle to Rockport, just under four miles to the west, to pick up some supplies and have dinner at one of the two restaurants there. 

We had an easy paddle to the village where we dodged a tourist boat and slipped onto a beach adjacent to one of the restaurants.  I went wit Stevie and John on a futile hunt for supplies, while the others went to the restaurant to sit where they could watch the boats and have something cold to drink.  By the time we got back from our search for supplies, we found that Adelle and her friends had driven down from Misty Isles to join us for dinner. 

We stayed at this restaurant almost by default, because we could watch over our boats while we ate.  There was a lot of story telling, good natured ribbing and lots of laughter.  Feeling relaxed after a good meal, we headed to our boats only to find that Bruce A's boat was gone.  A moment of panic gave way to laughter when Bruce R. and Alan fessed-up to hiding it during dinner.  On the water again, we paddled back to camp in record time, making the trip in just under forty-five minutes.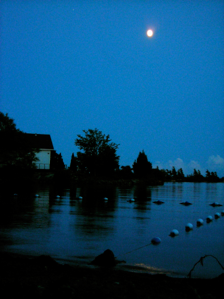 Once again, I swam and washed in the lake, then sat at a picnic table by the shore.  The St. Lawrence, more like a great lake than a river at this place, lapped at my feet.  I watched the projected glow of the sunset on the sky over New York State on the far shore.  The sky was painted with pale pinks, blues and purples as the sun set almost behind me.  It was a serene moment, peaceful as a painting, with the sounds of the gentle waves and birds singing their night songs adding accompaniment.  The only disturbance, the low base beat emanating from one of the
powerboats tied–up at the docks some distance away. 
Thursday, August 14th:  I was awakened at 5:30 by a quiet conversation between Bruce R. and Alan.  They are both early risers and had taken to early morning walks together.  Soon their quiet voices drifted off in the direction of the park's trails.  But I was awake.  I crawled out of bed and stuck my head out into heavy fog.  Figuring the bathroom would be bright and might help me wake up, I headed there.  It didn't.  This was feeling like one of those "I'm Grumpy, don't talk to me" kind of mornings. 

I made coffee without speaking (actually, there was no one else up) and carried a cup to a bench by the water.  The sips of coffee began to do their work.  I could begin to appreciate the many different birds that were about today.  I watched as the fog lifted briefly, then rolled back again until it finally lifted for good, revealing a beautiful day. 

We broke camp in the pokey fashion that was becoming standard operating procedure for us.  We were all on the water by about 10 AM.  Our route would take us over the St. Lawrence Rift.  The Rift is a submerged waterfall, buried beneath the river's surface when dams were built to make the river fully navigable for ocean going ships.  We had been told to expect strong and unusual currents in this area and maybe even whirlpools.  As it turned out, the Rift was a bit of a disappointment.  There were some fast and unusual currents and there were two or three small whirlpools, but that was it.  No great nail biting paddling challenge.  But the day was beautiful, matching the spectacular scenery around us. 

We were headed for Georgina Island about half way back to Misty Isles.  We could have made it back in one long push, but we had another day available and we didn't want to tax John's back.  The Interstate 81 bridge passes over one end of this island, but on the map it looked big enough to get away from the noise of traffic on the bridge.  After a leisurely paddle, we arrived at Georgina. 

There were a few campsites scattered around the perimeter of the island.  These were mostly occupied.  On the northwest side of the island we found docks with several large power and sailboats tied up.  There was almost no place to land a kayak, but we found a little patch of beach and began to pullout.  We carried each kayak off the "beach", over logs and brush and into a depression that in heavy rain must turn into a swamp.  It was the best spot we could find. 

The park ranger was less than helpful with this.  He seemed very cross and carried himself with a no-nonsense military air.  This was so different from our experience at Grenadier Island that it was almost startling.  We did not feel welcome.  The dock and two available campsites were just below and east of
the Interstate 81 Bridge, which loomed a hundred feet or so above us.  The ranger informed us that there were only two available campsites and that each would accommodate only two tents.  Since there were six of us, that was a problem.  I needed to use the hi-tech solar powered composting toilet the island was so proud of.  So, I left the others to discuss our options, while they stood on the dock next to the humming powerboat generators, beneath the bridge with the constant clatter of eighteen-wheelers roaring overhead. 

The hi-tech outhouse was truly a marvel.  It was clean and bright, without an unpleasant odor to offend the delicate senses of the most easily offended.  It also acted as a sound chamber, amplifying the roar of the trucks overhead.  By the time I left to rejoin the group I was fuming.  I didn't come to the Thousand Islands to be surrounded by the roar of trucks!  It was quieter at home in my own backyard. 

I stormed up the hill to the first tent site to find John setting up his gear.  Apparently the group had decided to stay.  They had already paid the $15.00 per site overnight fee and had also gotten nicked for a
landing fee
of some $6.00 per boat!  This was essentially a day use fee, which campers never have to pay in addition to a camping fee.  Mr. Military Park Ranger was either giving us a message that we weren't welcome on his island, or he was lining his own pockets with unnecessary fees.  I was angry, as we had plenty of time to paddle on to another island.  Stevie, apologized, saying that the noise hadn't even registered with him, as he lived in Brooklyn and dealt with this kind of background noise all the time. 
In making the decision to stay, members of the group had talked with the locals whose boats were at the dock.  They were told that the rangers left the island at five o'clock and would not return until nine o'clock the next morning.  The local police had been given the job of supervising these unattended islands after hours. If they stopped by, we might get a ticket if we set up additional tents.  But the police resented this added responsibility and seldom stopped here. 

I set up my tent along side John's in the first campsite.  Alan and Bruce A. wanted to do some more paddling.  They headed out to circumnavigate the island, the rest of us headed for our tents to take a nap.  It was warm and pleasant so I rolled back my rainfly to let as much air in as possible, and despite the truck noise I drifted off. 

I awoke with a start, as I was getting wet.  A small intense rainstorm had rolled in, and with my fly rolled back, I was getting wet and so was my gear, most notably, my sleeping bag.  Half awake, I worked to roll down the rainfly and button everything up.  As I finished, I saw a blur, as John rushed out of his tent and up the hill to see that the other tents were closed up.  He closed up Bruce A's tent and was startled to find Bruce R. asleep in Alan's tent

When the rangers left, Stevie and Bruce R. set up their tents inside the pavilion.  I was cooking again.  Tonight it was pizza with pepperoni, roasted red peppers, onion and garlic, topped with sauce and cheese (see side bar for a discussion of how this was done).  The four of us polished off six small pizzas!  Cleanup was a group effort except for Bruce A. whose bowels always seemed to move after dinner (Timing is everything ).

Yackman's Camp Pizza

You need:

1.Small Boboli pizza crusts

•They come two to a package.  I try to plan 1.5 pizzas per person.

2.Prepackaged Boboli pizza sauce

•The sauce comes three plastic containers to a box.  One container is needed for each pair of small crusts.

3.Vidalia Onion

4.Garlic

5.A jar of roasted red pepper

6.A green pepper

7.Pre-packaged shredded pizza cheese

•One package will handle about four crusts.

8.Pepperoni

•I prefer turkey pepperoni.  I can't see any difference in taste and its far less greasy.

Assembling the pizza:

1.Chop all the vegetables individually and put them in small containers.

2.Open the crust package and squeeze out about half of the sauce in a sauce package.  Spread it around the crust with the back of a spoon.

3.Dip into each container and spread an appropriate amount of onion, garlic, red and green pepper on top of the sauce.

4.Add a tight circle of pepperoni around the outside, then fill in the middle. 

5.Top everything with about a half cup of shredded cheese.

Cooking the Pizza:

1.I use a camping oven by MSR.  You could use a covered frying pan or other cookware that can hold the pizza crust.  It takes less that ten minutes to cook the pizza in my oven.  While each pizza cooks, I prepare the next one. 

2.You will need some kind of cutting surface to receive the cooked pizza.  Cut into several pieces and enjoy!

There was a beautiful sunset that we watched from a small dock near the pavilion.  Several guys set chairs on the dock and talked until after dark, when the sky filled with stars.  We forget just how overwhelming the uncounted numbers of stars can be.  They fill the sky from horizon to horizon.  But they are usually invisible to us in the light polluted cities in which most of us live. 

I went to find my headlamp, and then returned to the group.  I stood for a while talking to Alan when my head began to itch (It had been some time since I had been able to really wash my hair).  Without thinking, I pulled off my hat to scratch and heard the sound of my headlamp bouncing once on the dock, followed by a "ploop" as it hit the water.  I turned around, expecting it to be lost or ruined.  But there it was, sitting on the bottom, still shining brightly.  I fished it out, dried it off and put it back on.  Ten minutes later I did the same thing.  But this time there were two bounces and a "ploop", and no light shining up from the bottom.  Borrowing a flashlight, I located the light and fished it out again.  It was hanging open with all the electronics exposed.  I thought it was finished.  But when I hit the switch, it lit up good as ever.  The latch that held the halves of the light closed was broken however.  Holding the pieces together, I decide that I had better head for bed before something more happened. 

Friday, August 15th:  Traffic on the bridge began to thin out starting around ten o'clock.  Things were pretty quiet by midnight.  I slept well, much better than I expected really.  I was up around six o'clock and began packing my gear and knocking down my tent almost at once.  I wanted to be sure that no more than four tents were up when the rangers arrived that morning.  Everyone was more or less of the same mind, so by eight o'clock or so all the tents but one were down and packed.  The one exception was Stevie.  We tiptoed around his tent in the pavilion making breakfast until we decided we needed to wake him up.  We were on the water a little after nine o'clock, leaving just ahead of the ranger's arrival.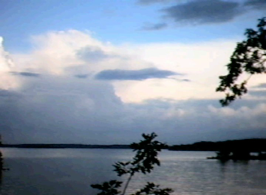 The weather forecast called for thunderstorms developing after noon.  We wanted to get back to Misty Isles before bad weather hit.  We had seven or eight miles to cover along a route that took us past several islands we hadn't seem yet.  It was a great paddle, with many beautiful islands.  At one point we ran into a fellow we had met in Rockport.  We knew he had a bed and breakfast, and there it was right in front of us.  Bruce R., Alan and I thought it might be a good place to bring our wives on another trip.  For several days we had noticed that Bruce A. would paddle up to any and all boats or people on shore and strike up a conversation.  We got to chuckling over this, because he was often unaware that we were all waiting for him.  So when one of his conversational excursions took him on the opposite side of a small island from us, we all tucked into a hidden cove to see how long it would take him to notice he was alone.  It took quite a while, but he eventually found us.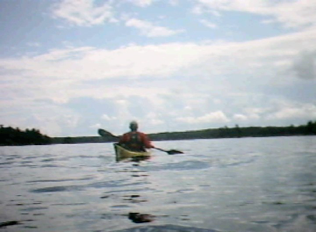 As we approached Misty Isles and the end of our trip, the sky began to darken with the threat of rain rolling in at anytime.  We didn't delay in hitting the beach, getting the cars and beginning to repack our gear in duffel bags for the trip home.  As we worked, Adelle and friends brought beer and water to those who wanted it.  Meanwhile the storm continued to come closer and closer, with rumbles of thunder announcing its approach.  The timing was such that Bruce R. could get home for a family event if we packed quickly and got on the road.  We finished just as the first of the rain hit.  Because of the time we decided to skip showers.  With good-byes and thank yous all around, we headed out into a horrendous downpour and home.